If you're anything like me, you understand the infamous "what's for breakfast" struggle. I've tried just about everything under the morning sun, from smoothies to granola bars, avocado toast to bagel thins with a smear of cream cheese - none of which would curb my hunger, and my blood sugar paid the price come 11:00AM. I am equally guilty for frequenting Starbucks way too often for an order of bacon egg bites. You really don't realize just how much this habit can hurt your debit account until you take a moment to study your bank statement. Don't ask me how I know.
Breakfast tacos are also my kryptonite. Texas problems.
For me, breakfast needs to be savory and filling or else I'll turn my nose away. Does that make me a breakfast snob? Maybe, but I'm a woman who knows what she wants! My theory boils down to the science of moderation: a heartier AM eatery option served in a smaller portion. This is where my Sunday Morning Casserole comes into play. A simple dish thrown together using virtually 5 ingredients and ready to eat within an hour. I first prepared my morning casserole for Christmas this past year, and it was a raving success with my family. Naturally, I poured a stout mimosa to wash it all down but I don't necessarily recommend champagne before heading off to the barn or office, ha. It's quick, it's easy, and it's sure to keep your belly happy well into the day.
The beauty about Sunday Morning Casserole is first, you do not have to make this on Sunday. I titled it so because by baking it on Sunday, you'll have breakfast set for the week ahead. Secondly, the recipe is completely customizable to your tastebuds. Sub bacon for sausage or your favorite array of vegetables such as tomatoes, mushrooms, spinach or kale. I haven't tried the casserole using egg whites only, but perhaps that'll be next on my cook list.
Sunday Morning Casserole will cost you roughly $10.00 and logically provide 8-10 portions using a 9x13 baking dish. That's about $1.00 per serving.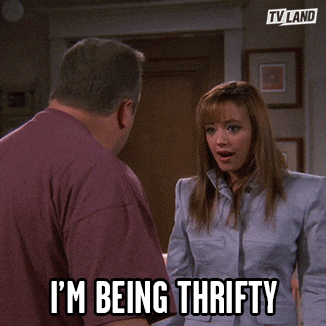 Here's what you'll need:
1 dozen eggs
1 bag frozen potato puffs - also known as "tater tots" to our inner six year old
6-7 slices of bacon chopped into small pieces - more or less depending on your style
1 bag of thick cut cheddar cheese - or any type of cheese you prefer
Splash of milk
4-5 dashes of hot sauce optional
Salt and pepper
Nonstick cooking spray
1) To begin, chop your bacon into small bite sized pieces and throw into a skillet over medium heat. Allow the bacon to brown until it's crispy and delicious. Set your oven to 400F degrees.
2) While your bacon is doing good things, crack one dozen eggs into a bowl. Add a splash of milk, a few dashes of hot sauce for extra flavor - we like spice in our household - and a big pinch of salt and pepper. Whisk to combine.
3) Prepare a 9x13 baking dish with nonstick cooking spray, then dump the entire back of potato puffs into the bottom - still frozen. Organize into an even layer.
4) Next, when your bacon is cooked to perfection, remove from the hot grease by using a slotted spoon. Put the bacon bits onto a plate lined with a paper towel to allow the grease to drain away.
5) Add the bacon bits into the egg mixture and stir to combine. Then, pour the entire bowl over the potato puffs. Make sure the bacon is evenly distributed over the potatoes - you might have to help it along. Top with cheese, and place into the oven for 40-45 minutes or until cheese is brown and the casserole is set. You can test this by using a toothpick! Stick into the middle of the casserole and if it comes back clean, you're ready to serve.
You can slice the casserole into bars and place into plasticware or foil for a "grab and go" meal ideally created for the busy equestrian.


Real quick, let's talk about variations.
Sunday Morning Casserole is the perfect candidate for "egg bites," meaning prepare a muffin tin using the nonstick spray, pop two potato puffs on the bottom, pour your egg mixture into each well, top with cheese and bake until same results. They're easily packable for horse show weekends, meal prepping, or as a treat for your trainer or barn staff of which they will GREATLY appreciate. I'm speaking from personal experience.
Enjoy, friends!